由
Lisa Chamoff
, Contributing Reporter | October 26, 2020
From the October 2020 issue of HealthCare Business News magazine
The company also recently launched its RapidPlan PT software for proton therapy planning. The software comes with machine learning capabilities that cuts planning from one to two hours to less than 10 minutes, according to the company.
"It allows them to take advantage of a tool that they already know and love for their conventional photon therapy, for proton therapy," Kennedy said.

Quest Imaging Solutions provides all major brands of surgical c-arms (new and refurbished) and carries a large inventory for purchase or rent. With over 20 years in the medical equipment business we can help you fulfill your equipment needs

The company is also investing in preclinical research and a clinical development program for Flash therapy, which provides ultra-high, cancer-killing radiation dose in less than a second.
On the business front, Siemens Healthineers announced a deal in August to acquire Varian Medical Systems for $16.4 billion.
"We're very excited about the opportunity this will bring for cancer patients around the globe," Kennedy said. "We believe that this will help accelerate our ability to achieve our mission of a world without fear of cancer."
Radiation therapy

Accuray
Originally developed for the CyberKnife System, the FDA recently cleared Synchrony real-time motion tracking and correction technology for the Radixact Treatment Delivery System. The addition of Synchrony on Radixact enables SBRT cancer treatments to the lung, liver, prostate, and any other anatomic regions prone to movement.
"This [Synchrony] allows clinicians to deliver tightly conformed doses to targets that move, very efficiently" said Corey Lawson, vice president of product strategy at Accuray. "By being able to accurately and precisely follow moving targets, our clinical partners have expressed a heightened sense of confidence in treating such challenging cases with fewer fractions."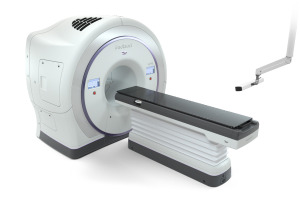 The company recently applied for an FDA 510(k) for helical KVCT imaging technology on the Radixact Treatment Delivery System, which is built on their unique slip ring platform, the same type of platform used for diagnostic CT. The technology will provide the benefit of being able to acquire helical images for patient setup, adaptive monitoring, and re-planning when warranted.
"Our adaptive solution allows clinicians to monitor the amount of dose each anatomic structure receives with each fraction," Lawson said. "If patient changes impact treatment objectives, our solution makes it easy to adapt the plan, ensuring the patient receives the optimal treatment, from the first fraction to last."