由
Lisa Chamoff
, Contributing Reporter | October 12, 2020
From the October 2020 issue of HealthCare Business News magazine
Similar to the LineUP scanner, used for the knees and lower extremities, the HiRise is small enough to fit in a doctor's office and can plug in to a regular wall outlet, negating the need to go to the hospital for a scan.
"COVID-19 has shown us we want to rethink hospital visits," Singh said.

Numed, a well established company in business since 1975 provides a wide range of service options including time & material service, PM only contracts, full service contracts, labor only contracts & system relocation. Call 800 96 Numed for more info.

The HiRise is in use for research at the University of Iowa and the company is anticipating FDA approval in the fourth quarter of this year. Last year, Curvebeam had intended to simply modify its existing LineUP to scan up to the hip, but decided to release a completely new, third-generation system.
The gantry, with a 50-centimeter bore and 40-centimeter field of view, can flip 90 degrees, so the scanner can also be used for standing upper extremity scans, as well as supine foot, ankle knee and hip scans for standing and non-weight-bearing comparisons.
The company is also in the process of developing CubeVue Autometrics, an AI platform that can automatically segment foot and ankle data sets and run measurements in a matter of minutes.
"The foot and ankle are one of the most complex regions of anatomy, with 26 bones and 28 joints," Singh said. "It's like a very complex puzzle. Identifying each of bones manually can take up to a day per foot."
The company is hoping for a release of the cloud-based software by the end of the year.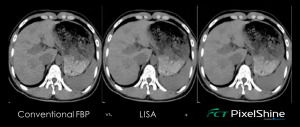 FUJIFILM Medical Systems U.S.A., Inc.
FUJIFILM Medical Systems U.S.A., Inc. recently completed development of the latest version 1.4 for its Persona CT system software, which includes more clinical features.
The company also released FCT PixelShine, a deep learning application that improves the image quality through denoising of low-dose CT images on any scanner.
"The new release of PixelShine is designed to find the best possible noise balance for the clinician," said Rick Banner, senior director of marketing for FUJIFILM Medical Systems U.S.A., Inc.
There are also FDA 510(k) pending updates to the company's metal artifact reduction technology.
"Depending on the body region and type of metal, we can adjust the algorithm and make the image as beautiful and clear as possible," Banner said.
There's also an extended field of view, with an 85-centimeter bore and 60-plus centimeters of Hounsfield uniformity that's FDA pending. Fujifilm believes this feature, once FDA approved and available to the market, will be crucial for oncology treatment planning.