由
John R. Fischer
, Senior Reporter | September 28, 2020
From the September 2020 issue of HealthCare Business News magazine
Since RF shields must line every inch of the room, including the floors and ceilings, spatial considerations must be comprehensive. It's also critical, to shielding professionals as well as MR vendors, that the floors be absolutely level.
"If the owner is doing this for the first time, they have to make sure they have a path for the magnet entry and have to understand how the magnet is being transported in the building," said Howard Newman, vice president for Universal Shielding. "They also have to make sure they understand how our shielding components get transported into the building."

Midwest Hand Surgery Auction Closing 5/26 at 8PM. Hologic Fluoroscan Insight-FD Mini C-Arm, Nuvo Dual-Lamp Surgical Lighting System W/Control Panel, Ritter M11 Ultraclave Automatic Sterilizer & More! 2 Day Women's Treatment Center Auction Coming Soon!

Consulting directly with the MR vendor is a good way to obtain shielding support and information. In most cases, they should be able to provide site planning documents and details on the right shields for a given scanner and how to transport components. Many of them also have shielding specialists they can refer you to.
For new installations, it's best to get the shielding expert involved in the planning process sooner than later, advises Walter Bernschneider, sales manager for MR systems with Albatross Projects.
"RF shielding is a necessary evil for every MR system and clients do not always understand that," he said. "Therefore, a very early involvement of the RF shielding vendor is one of my first wishes. The second very important wish is to ensure a comparison of the different materials for RF shielding, because that determines pricing both in the short-term and long-term. Not every cheap solution is later a cheap solution."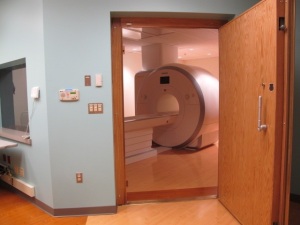 To replace or repair
The most obvious sign that a shield is not attenuating correctly is artifacts on the MR scans. This can be caused by a variety of issues, such as a breach in the RF structure or water damage from a leaky roof or pipe. Getting to the bottom of what's causing the artifacts is key to determining whether a shield needs to be replaced or can be repaired.
"If they have a history of artifacts on their scans and have frequent calls to service the RF shield, it's a good indicator that regardless of how old the shield is, you want to replace it when the customer gets a new magnet," said Jim Maslowski, president of PDC Facilities. "Perhaps the shield was not installed properly in the beginning; or maybe it's affected by moisture, which will cause oxidation and corrosion. Oxidation and corrosion will reduce the useful life of the RF shield and eventually cause a breach in the shielding, which will allow RF interference into the scan room."