由
John R. Fischer
, Senior Reporter | September 15, 2020
From the September 2020 issue of HealthCare Business News magazine
"For remote monitoring, signals whose indications relate to the possibility of helium loss are closely monitored," said Dale McGuire, VP of research/development and training at BC Technical, a subsidiary of Alpha Source Group. "The main purpose is to catch and solve problems before helium loss occurs. The cost to replenish helium is not only high but its loss can cause additional service expenses as well."
A breakdown of parts
The chiller is one of the most important components of an MR system. It is responsible for cooling and keeping a variety of other components within the scanner at specific temperatures, including shield coolers and shim coils. The breakdown of a chiller, in turn, can cause cold head temperature to rise and helium to boil off.

Quest Imaging Solutions provides all major brands of surgical c-arms (new and refurbished) and carries a large inventory for purchase or rent. With over 20 years in the medical equipment business we can help you fulfill your equipment needs

MR remote monitoring not only alerts users early-on to problems with the chiller, it also enables them to maintain high chiller availability, which translates to low downtime for the MR system.
"What is changing now is that MR providers are starting to see value in remote monitoring of MR chillers," said Chris Wong, VP of operations at Advanced Cooling Technologies, Inc. "We use remote monitoring of the chiller to alert us to when a problem occurs needing a service call, and to monitor the cooling performance over time. We have the ability to fix issues early, and reduce or eliminate costly downtime events that impact the MR. It provides a better customer experience because of higher chiller availability, and gives us more flexibility to plan service around the customer's busy schedule."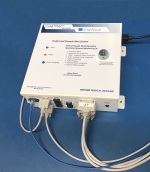 Remote monitoring also can keep track of HVACs, power, temperature, pressure and cryo-compressor run conditions. For instance, if a scanner's AC unit is running weaker than usual on a hot day or in an area with hot climates, that can lead to a breakdown and a rise in the temperature of the MR equipment room.
Other issues remote monitoring can alert users to are changes in room temperatures, humidity and atmospheric pressure, as well as incorrect signal-to-noise ratios for the performance of surface coils.
"This data is measured continuously and uploaded to a website every minute," said McClellan. "The web page sends out alarms via email, text or both to any number of users anytime a value goes outside of set limits. At this point, someone will log onto the website and check the current data and historical graphs to determine the situation and whether or not it is an immediate problem. We bias the set points conservatively to catch problems as early as possible."