由
Lauren Dubinsky
, Senior Reporter | July 13, 2020
From the July 2020 issue of HealthCare Business News magazine
The software on these ultrasound devices also acquires images and video clips that can be emailed directly to the patient. The data is anonymized to avoid any HIPAA issues.
Despite the many benefits that this approach provides, there are a few drawbacks. Ambient light can make it difficult for the operator to see the screen, but that can be solved by draping a covering over the patient.

Quest Imaging Solutions provides all major brands of surgical c-arms (new and refurbished) and carries a large inventory for purchase or rent. With over 20 years in the medical equipment business we can help you fulfill your equipment needs

It is especially challenging to scan obese patients with this approach because the operator needs to get the probe in the right location as well as minimize the distance between the skin surface and the fetus to obtain all of the required details.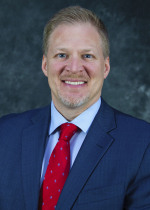 Dr. Andrew Furman, executive director of clinical excellence at ECRI, warned that although OB/GYNs across the country have increased the use of telemedicine, "this won't be the case for every expecting mother or every visit, as some pregnancies are higher risk and require higher levels of care."
Are the cleaning protocols different?
"It's not a hard virus to kill if you just attack it with a little soap and water or 70% isopropyl alcohol," said Bromley. "There are numerous approved solutions – you just have to make sure that whatever you use is approved by the manufacturer of the imaging system you're using."
The Centers for Disease Control and Prevention guidelines call for the use of cleaners and water to pre-clean surfaces before applying EPA-registered, hospital-grade disinfectants to frequently touched surfaces and objects. In addition, medical equipment used for patient care should be cleaned and disinfected according to manufacturer's instructions and facility policies.
Even though cleaning products haven't changed, a lot more time is required to clean between each exam. That's because everything from the transducers to the door handles must be meticulously cleaned.
"The cleaning protocol is much different now than pre-COVID and there is even more intensive cleaning if someone who is COVID-positive comes into the office," said Nimaroff.
The most significant change is the increased use of probe sheaths when scanning patients who have or are suspected to have COVID. Most organizations, including ECRI, recommend the use of probe sheaths in this situation.