由
Lisa Chamoff
, Contributing Reporter | April 13, 2020
From the April 2020 issue of HealthCare Business News magazine
Linda Marlay, radiology department manager at the Jefferson County Health Center in Fairfield, Iowa, said they added Sky Factory ceilings to the CT and ultrasound exam rooms when the facility was constructed in 2009, and added it to a new MR room in 2017.
The panels have an image of a blue sky and tree branches with pink flowers.

Numed, a well established company in business since 1975 provides a wide range of service options including time & material service, PM only contracts, full service contracts, labor only contracts & system relocation. Call 800 96 Numed for more info.

The facility's pediatric volume is small — less than 1% of 1,200 exams a month — and they rarely use sedation for pediatric patients, but the installation helps create a distraction, Marlay said.
"I do think that parents appreciate that we have the panels and that we use it to get patients to focus on something other than the imaging exam," Marlay said.
A single-blind patient study that was conducted with Texas Tech University's College of Human Sciences, in conjunction with Covenant Health, and published in the Health Environments Research and Design Journal in 2015, found the Sky Factory installations reduced acute stress in a little more than half of patients in a surgical-medical in-patient unit, plus decreased in anxiety in about one third of patients.
Cook Children's Medical Center in Fort Worth, Texas, worked with a company called Character Farms last year to create a jungle scene, replacing the blank white walls. Outside the entrance is the 3D head of a giraffe, while inside the MR scanner is a 3D carrot. The hospital has a youth advisory council that chose a favorite scene and the staff also had a say.
"We don't make those decisions on an administrative level, we engage the stakeholders," said Jill Koss, director of family support services at the hospital.
The department was already working to reduce sedation rates, guiding pediatric patients through deep breathing exercises and muscle relaxation techniques by blowing bubbles or pinwheels and utilizing goggles during the exam.
"The art has helped us reduce it even more because they're relaxed going into the exam," Koss said.
In September 2019, The Children's Hospital at Saint Francis installed a new GE Healthcare 3T scanner inside a Caring MR Suite from PDC Facilities, which provides 4K videos of relaxing nature scenes or movies that can be displayed on the ceiling for feet-first exams and via a mirror within the bore of the MR scanner for brain and upper body scans.
Their suites come with a lighting series that allows patients to pick the color of the room, with specific scenes within that lighting series.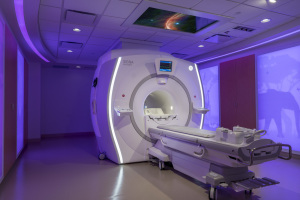 This gives patients a little control over the exam, Kemp said. They also offer MR-compliant goggles to watch movies, and headphones that block out the majority of the noise, but they let the child choose.