由
Lisa Chamoff
, Contributing Reporter | March 16, 2020
From the March 2020 issue of HealthCare Business News magazine
The Medstone3 ERCP and the Medstone5 ERCP are three- and five-movement tables that feature a wide tabletop and 58-inch imaging area with a 750-pound table weight capacity, which Neese said is one of the highest weight capacities on the market for mobile tables.
"Offering a wide imaging area is key to enhancing image quality and improving OR workflow during image-guided procedures like ERCP," Neese said.

Quest Imaging Solutions provides all major brands of surgical c-arms (new and refurbished) and carries a large inventory for purchase or rent. With over 20 years in the medical equipment business we can help you fulfill your equipment needs

STILLE has also lowered the elevation of the tables to make the table more patient accessible and ease patient transfer for the staff.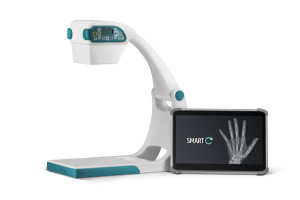 Turner X-ray
Turner X-ray's Smart-C mini C-arm is point-of-care C-arm that weighs 16 pounds, compared to the 500 to 1,000 pounds of a full-size C-arm and 350-plus pounds of a regular mini C-arm. It has a targeted use at the hospital bedside, in a surgical suite or clinic, at a post-acute care center or in the field for sports medicine, military applications and humanitarian missions.
The product debuted at the 2018 RSNA annual meeting and it received FDA 510(k) clearance in September 2019.
The Smart-C forgoes the traditional cart for a tablet user interface, it collapses to fit into a suitcase and is also battery-powered. There is a support stand and monitor cart available so that it can more readily be used in the OR environment.
"It does all the same things that the current mini C-arms do: surgery, trauma diagnosis and treatment of orthopedic injuries," said Mike Orthner, product manager for Turner X-ray. "The image quality is good or better than our competition and uses the latest CMOS detector technologies. ... We envision the clinicians using it in the office or in the field and then they're bringing it into the OR to perform surgery."
The unique portable design also allows it to be tailored for use in rural communities and during disaster treatment. The company has plans to start a no-cost humanitarian loaner program.
Ziehm Imaging
In December, Ziehm Imaging received FDA clearance for its Ziehm Vision FD. The C-arm comes with a large 31-centimeter-by-31-centimeter panel, creating a larger field of view for orthopedic and vascular surgeries.
At this year's ECR in Vienna, Ziehm Imaging will showcase its portfolio of mobile C-arms, which include Orthoscan mini C-arms and mobile hybrid suites.