由
Lisa Chamoff
, Contributing Reporter | March 16, 2020
From the March 2020 issue of HealthCare Business News magazine
For the OEC Elite CFD platform, the company also introduced a new algorithm that reduces the overall noise in a vascular or cardiac image by about 30%. Called enhanced Noise Reduction, or eNR, it "smooths out the images and reduces some of the fuzziness so the surgeon is able to see greater detail during vascular and cardiac procedures," Strauch said.
Image Diagnostics
In January of this year, Image Diagnostics released its Aspect Iso-Drive Spinal Imaging Table.

Quest Imaging Solutions provides all major brands of surgical c-arms (new and refurbished) and carries a large inventory for purchase or rent. With over 20 years in the medical equipment business we can help you fulfill your equipment needs

The table features the company's patented iso-centric lateral roll that allows the spinal anatomy to remain centered in the fluoroscopic field of view during lateral roll.
"Most tables roll from beneath the tabletop, [which] moves the spine from side to side," said Remo Rossi, president of Image Diagnostics. "With our table, the top and spine rotate within a cradle motion and remain in the field of view during fluoroscopy."
The tabletop has a recessed head area for using a variety of face cushions for head and neck positioning.
The design of the tabletop allows for increased flexion of the head and cervical spine.
Other tables increase flexion of the neck and spine with spinal platforms, which creates an artifact, Rossi said.
"The Iso-Drive table provides the ability to increase flexion in the cervical region of the spine without the addition of artifacts," Rossi said.
A new urology table, the Unidiagnost M, is expected to be available in the third quarter of 2020.
"We are one of a few companies that has designed and manufactured a mobile urology/cysto table that can provide an equivalent experience to using a fixed room," Rossi said.
The company's tables are designed to be part of complete systems, complementing and improving C-arm performance and diagnostic imaging outcomes, Rossi said.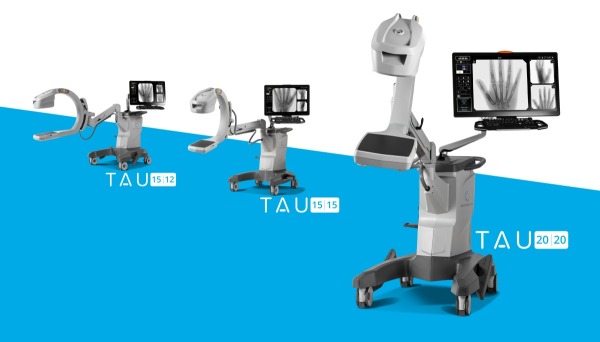 Orthoscan
Orthoscan's new platform of mini C-arms, called the TAU family, were FDA-cleared in July 2019.