The following are just some of the products and services on display at ECR 2020.

ALTA750®
Richardson Healthcare - Expo X5, Stand 523
The ALTA750® is a form, fit and function replacement for the Toshiba/Canon Medical Systems CXB-750D/4A CT tube. It is certified on OEM platforms, including the Aquilion 4- through 64-slice and the PRIME (Gen. 1). The ALTA750 is CE approved and is available with a 12-month warranty (certain restrictions apply). Stocked in 6 locations around the world and ready to ship today!

Numed, a well established company in business since 1975 provides a wide range of service options including time & material service, PM only contracts, full service contracts, labor only contracts & system relocation. Call 800 96 Numed for more info.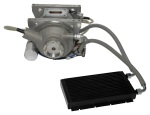 GS-5172 CT tube
Varex Imaging - Expo X2, Stand 223
Varex GS-5172 is offered as a CT tube replacement for Philips CT scanners. There are two versions:GS-5172 is designed to replace the CTR2150CEPN in Philips MX-16 CT scanners and GS-5172B is designed to replace the CTR2150 in Philips Brilliance CT Scanners. Both versions are designed to match the original tube in form, fit and function with 200,000 scans second with a 12-month warranty.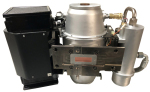 MCS-6074D CT Tube
Varex Imaging - Expo X2, Stand 223
New Varex MCS-6074D is designed as a replacement for the GE Performix 40 X-ray tube on the Optima CT660 CT scanner. Utilizing conventional bearings, the MCS-6074D comes with a 12 month or 6000 patient exam warranty. Replaces OEM part numbers D3187T, D3188T, 2137130-11, 2137130-2
Rivent
ContextVision - Expo X1, Stand 110
At ECR 2020, ContextVision introduces RiventTM, its latest innovation in image enhancement for ultrasound. The solution offers superior image quality and meets increasing demand for stronger processing capabilities without compromising on a natural look. Rivent provides well-defined borders and efficient noise reduction to enable smooth tissue and true black fluids while maintaining tissue information. The product optimizes image quality in both nearand far-field and automatically adapts to different line densities in real-time, addressing the development towards higher resolution in ultrasound systems. With Rivent, ContextVision offers ultrasound manufacturers immense flexibility and customization possibilities to meet all user needs and image preferences.