由
Lisa Chamoff
, Contributing Reporter | January 15, 2020
A team of researchers at a Connecticut university recently used diagnostic imaging to study the remains of what is believed to be a Revolutionary War soldier, found along with two other skeletons during a nearby home renovation.
Aside from determining what happened to the three soldiers — believed to have taken part in the first Revolutionary War battle in Connecticut in 1777, and then buried together in a plot in Ridgefield where a home was later built — imaging is also being used to enhance clinical radiography training at Quinnipiac, located in Hamden, Connecticut.
The team used a mammography scanner, along with plain film radiographs and a CT scanner, to determine the soldier was about 5'11", in good health and likely between 21 and 50.

SRI is a leading Developer, Manufacturer & Supplier of Innovative Portable Imaging Equipment. We offer Lightweight, Agile, Easy to Maneuver Portable X-Ray Systems ideal for maneuvering in tight spaces. Call us at 631-244-8200

Mammography is useful to examine small objects, such as the mandible, to determine, for example, how cavities affected the health of the soldier's jaw, said Jamie Ullinger. associate professor of anthropology and co-executive director of the Bioanthropology Research Institute at Quinnipiac.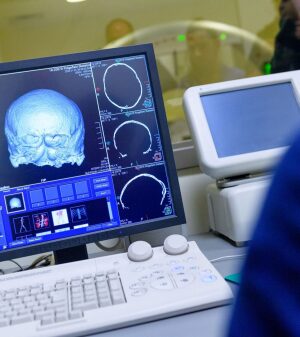 "Imaging is used quite a lot," Ullinger told HCB News. "We try not to be invasive and cut something open."
The researchers often work with Kubtec, a medical imaging manufacturer in nearby Stratford, to examine specimens.
The researchers have to be novel in approach to ancient materials, since they can't ask the patient to move into certain positions.
"You can change radiation dose significantly because you can't hurt a skeleton," Ullinger said.
Gerald Conlogue, professor emeritus of diagnostic imaging, and co-executive director of the Bioanthropology Research Institute at Quinnipiac, said education is enhanced by applying the principles of diagnostic imaging to unusual objects.
"Almost everything is automated," Conlogue told HCB News. "All that's fantastic, but if you're training someone to use the equipment, you want them to really learn how to use the equipment … If they get a case from an ED and they have to modify a protocol, they'll know what to do. I think seeing these things in a lab will make them better understand it."