由
John W. Mitchell
, Senior Correspondent | October 07, 2019
From the October 2019 issue of HealthCare Business News magazine
The cooling challenge defined
MR cooling should be thought of as a trifecta, according to Ken Sourounis, managing partner at CyroSRV, a company that designs and produces MR cold heads. The three components — the cold head, chiller, and compressor — are linked operationally; a failure in any of the trio equals MR trouble. He said the goal of this "cryogenic-sub system" is to run in perfect harmony with the vacuum and liquid helium.
"All we're trying to do is keep the MR cold enough, so the coils in the magnet have no resistance and therefore are superconductive, creating the electromagnet," said Sourounis. "It's a three-stage removal of heat. If any of the components are failing the end result is poor cold head performance."

For those who need to move fast and expand clinical capabilities -- and would love new equipment -- the uCT 550 Advance offers a new fully configured 80-slice CT in up to 2 weeks with routine maintenance and parts and Software Upgrades for Life™ included.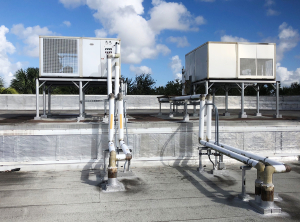 The function of the cryogenics subsystem is to cool the helium gas enough to convert it to a liquid and maintain proper pressure on the magnet. Any extended combination of power loss or cooling capacity, he added, will slowly build pressure and evaporate helium in the system; the magnet will stop working within days. Unfortunately, such a failure is not uncommon.
"Often when we go in for service, it's after the cold head pressure has gone over the OEM safety relief valve amount," said Sourounis. "The difference between normal operating pressure and the safety relief valve is how much time you get before you start losing helium."
In addition, he said, there are two other relief valves. The last valve is the largest and, if activated, it will quench, releasing the helium gas forcefully and loudly — an expensive proposition. Even just a gradual loss of two to three percent of helium a week costs about $2,000 for 99.9 percent ultrahigh purity, alpha helium gas, (medical grade helium is only 99.5 percent pure and should never be used in an MR, Sourounis added).
Cooling calamities
The first line of defense in MR cooling is staff awareness. Troy Teegerstrom, field service engineer with Cool Pair Plus, a provider of chillers, cold heads and compressors, recalled one instance when an MR tech was listening for the wrong sounds. Via remote monitoring, he was able to see that the site that had lost 10 percent of the helium in its MR.
"I called the site to check-in, and the tech told me the MR had never sounded better," he recalled. "I asked the tech to go into the RF room to listen for the cold head chirping sounds. There was no sound because the cold head had been shut off all weekend. The tech had equated the cold head silence as the 'MR never sounded better'."