From the August 2019 issue of HealthCare Business News magazine
Meanwhile digital technology continuously keeps tabs on clinical equipment. A real-time location system tracks the locations of mobile devices so clinicians can quickly and easily locate them when needed for patient care or when due for planned maintenance.
Digital technology keeps around-the-clock watch on mission-critical devices such as CT and MR scanners, using AI and data from a large installed base to detect operating anomalies or, in the case of CT, impending tube failures. In case of a fault, the vendor's service team is notified; a remote engineer makes a proactive fix, or a field engineer makes a timely repair so that unplanned downtime is avoided and patient impact is minimized.

Quest Imaging Solutions provides all major brands of surgical c-arms (new and refurbished) and carries a large inventory for purchase or rent. With over 20 years in the medical equipment business we can help you fulfill your equipment needs

Along the way, service data are collected and analyzed so service practices can be refined and clinical device designs fine-tuned to enhance reliability.
A critical capability in an age of transparency and device connectivity is cybersecurity — increasingly a strategic function in healthcare organizations. AI-powered threat detection systems are being developed to identify, manage, record and analyze security threats or incidents around the clock, in real time.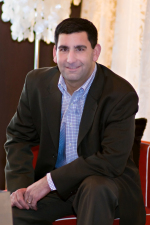 Amid the growth in digital technology, there is no discounting the importance of the people who do the essential service work. A key role of digital technology and AI is to eliminate tedium and do the heavy lifting of analyzing vast volumes of data — leaving staff with more time to use their skills and creative thinking to solve problems and help care providers further their mission of patient care.
About the Author: Rob Reilly is vice president and general manager of U.S. and Canada service at GE Healthcare.
Back to HCB News