由
Lauren Dubinsky
, Senior Reporter | July 08, 2019
From the July 2019 issue of HealthCare Business News magazine
Merton explained that sonographers are required to put pressure down with their arm extended away from their body, which causes muscular stress. This could result in an injury to the wrist, shoulder, neck, elbow or a combination thereof.
"In terms of OB scanning, as the patient's abdomen gets larger, and if you're a smaller person performing the exam, you may have your arm at a 90-degree angle out from your body while trying to push down," said Merton. "That's very difficult to do and very stressful on the body."

Numed, a well established company in business since 1975 provides a wide range of service options including time & material service, PM only contracts, full service contracts, labor only contracts & system relocation. Call 800 96 Numed for more info.

Canon's intelligent Dynamic Micro-Slice (iDMS) technology takes aim at reducing these injuries by allowing for extra penetration while being able to scan at a higher frequency to get better resolution and reduce the noise in the image.
"When you get third trimester patients, you're sometimes struggling to get a good view of those babies if you have a large patient," said Hodgson. "We found that with our new IDMS technology, that made an enormous difference."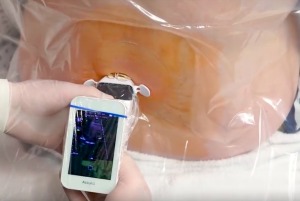 A major factor contributing to WRMSDs is the increase in exams that sonographers are being asked to perform throughout a given shift. They used to scan six to eight patients in an eight-hour day, but now they might be scanning up to 12 or more patients per day.
In addition, there is not much downtime between the exams for the sonographer to rest, because of digital imaging. With film imaging, the sonographers would need to run their films and reload their cassettes, which gave them a 10- to 15-minute break.
The Industry Standards for the Prevention of Work-Related Musculoskeletal Disorders in Sonography was developed through a consensus conference hosted by the SDMS in 2016, which ECRI helped revise in 2017. The standards, which are available online, state that working posture and the ergonomics of the work environment are crucial to preventing an injury or managing the progression of symptoms.
Benefits of early and late pregnancy ultrasounds
Most women get an ultrasound in their second trimester, but a new study conducted by the University of Cambridge and the University of East Anglia found that late pregnancy ultrasounds may also result in additional benefits and cost savings.