由
Lisa Chamoff
, Contributing Reporter | April 08, 2019
From the April 2019 issue of HealthCare Business News magazine
There is also full control of C-arm at the C-arm, instead of just via a cart.
"With all of our systems you can control all settings at the C-arm so you don't have to go back and forth to the monitor cart," Reid said.

Quest Imaging Solutions provides all major brands of surgical c-arms (new and refurbished) and carries a large inventory for purchase or rent. With over 20 years in the medical equipment business we can help you fulfill your equipment needs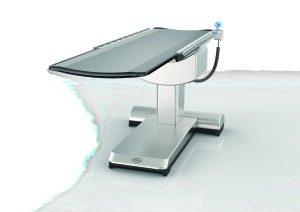 STILLE
STILLE continues to make updates to its mobile imaging tables based on the trends of the market, including 3D imaging. The company has added several accessories that promote an increased imaging area.
The imagiQ2 tabletop has a .4-millimeter aluminum equivalency that the company says has the lowest attenuation on the market, to help reduce dose and improve image clarity, and comes with a curved design to minimize artifacts when imaging.
The company also recently increased the weight capacity of the table from 500 to 661 pounds and improved the performance of the battery, which can last up to five days, said Susan Neese, vice president of sales at STILLE.
STILLE also made enhancements to its Medstone table series, including a lower elevation to 25 inches from 28 inches to allow for easier access, particularly for patients with disabilities.
"That's a huge demand, especially in the pain management field," Neese said.
Ziehm Imaging
At last year's RSNA, Ziehm Imaging showcased its new Articulating Monitor Arm, which is mounted to the monitor cart and can be moved in different directions based on the surgeon's preferred viewing angle.
"Before the monitor was stuck on the monitor cart," said Martin Ringholz, director of global marketing for Ziehm Imaging. "Now it's more flexibly positioned."
At this year's ECR show in Vienna, the company launched its Ziehm Vision FD with a 31-centimeter-by-31-centimeter panel.
The larger detector creates a larger field of view for orthopedic and vascular surgeries, Ringholz said.
The company also showcased how its Ziehm Vision RFD 3D can integrate with major surgical navigation systems, from companies including Brainlab and Stryker, as well as robotic guidance systems from companies such as Globus Medical.
Back to HCB News