由
Lisa Chamoff
, Contributing Reporter | April 08, 2019
From the April 2019 issue of HealthCare Business News magazine
"Very often people have a fleet of these systems, Tabaksblat said. "They all have the same user interface. That's an advantage in the OR so not everyone has a specific learning curve."

Quest Imaging Solutions provides all major brands of surgical c-arms (new and refurbished) and carries a large inventory for purchase or rent. With over 20 years in the medical equipment business we can help you fulfill your equipment needs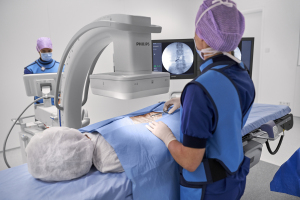 With this line, Philips has introduced an FD 12 (21-centimeter-by-21-centimeter) detector for orthopedic and cardiac applications, with high-end image processing. It also allows the company to add advanced clinical applications, including vascular clinical applications that allow physicians to outline vascular details or overlay previously acquired CT scans on the image.
"As we go forward, we will be introducing the very advanced clinical applications that we developed for Azurion to this platform," Tabaksblat said.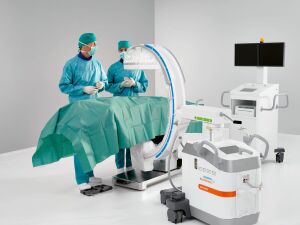 Siemens Healthineers
Before last year's RSNA, Siemens Healthineers announced the FDA clearance of its Cios Spin Mobile 3D C-Arm, with a 3D system that can create CT-like images.
Lisa Reid, director of product marketing for mobile surgery at Siemens Healthineers said the 3D images can help surgeon see, in different planes, things such as pedicle screw placement in the spine and implants.
"It helps reduce the cost of the entire surgical procedure because it may reduce the need for second surgeries and CT to check the placement," Reid said. "It's very versatile in that it does not just provide 3D CT-like imaging, but 2D as well."
The C-arm can link to surgical navigation systems.
"With minimally-invasive procedures increasing, it's likely that the need for navigation and 3D imagining will increase," Reid said.
While there have been no installations of the Cios Spin yet in the U.S., customers in Europe have been using the 3D capabilities for spine, facial and hip surgeries, Reid said.
In October of last year, the company released a version of its Cios Select with an amorphous silicon flat panel detector and a touch screen user interface. This budget-minded system targets pain management clinics and general surgeries, following the trend toward more outpatient procedures.