由
Lisa Chamoff
, Contributing Reporter | April 08, 2019
From the April 2019 issue of HealthCare Business News magazine
The table can also go lower to the ground, with the lowest setting allowing the table to be lowered 21 inches, depending on the motors and accessories.
"We're constantly evolving and trying to stand up to the C-arm technology," Asbille said.

Quest Imaging Solutions provides all major brands of surgical c-arms (new and refurbished) and carries a large inventory for purchase or rent. With over 20 years in the medical equipment business we can help you fulfill your equipment needs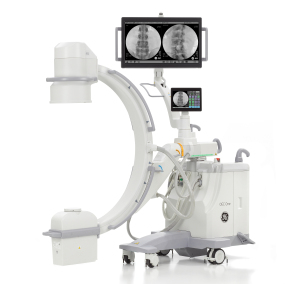 GE Healthcare
For the past three years, GE Healthcare has been replicating its entire portfolio of image intensifiers and transitioning to flat panel systems.
Last year, the company added what it calls motorized drive configurations that allow surgeons to control the motion of the C-arms themselves.
"Some C-arms are operated by clinicians who do not have a radiology technician in the room at the same time," said Dan Strauch, chief marketing officer of GE Healthcare's surgery business.
Also last year, the company released the OEC One, a budget-minded image intensifier system that has the mainframe of the system and workstation in one. The device is targeted toward small surgery centers.
"Surgery centers with constraints on available room size are looking for something that's little more maneuverable," Strauch said. "We were looking to create a system that would support their workflow."
While the initial introduction was for orthopedic use only, the OEC One received FDA clearance for vascular capabilities before last year's RSNA.
On the OEC Elite CFD platform, last year GE added new applications, such as a Digital Pen, which allows surgeons to write on the screen digitally – to, for example, measure stenosis or mark positioning to place a stent – for surgical planning purposes. It also introduced a General HD profile, which allows for premade adjustments, such as more edge definition, for the surgeon.
"Instead of making all of those adjustments for the surgeon, it gets the surgeon 90 percent of the way there," Strauch said. "It's a quicker way to make the vast majority of adjustments that the surgeon will need."
The company also added Live Zoom that allows the image to be zoomed four times digitally without taking a second shot, or it can take a shot already zoomed in.
Getinge
In February, Getinge launched the PILOT Patient Transfer System for the Maquet Magnus table system in conjunction with Siemens Healthineers. The table is designed to work with Siemens' nexaris Angio-MR-CT that is both X-ray and MR compatible. The system is designed to work with the table and vice versa.