由
John W. Mitchell
, Senior Correspondent | February 05, 2019
From the January/February issue of HealthCare Business News magazine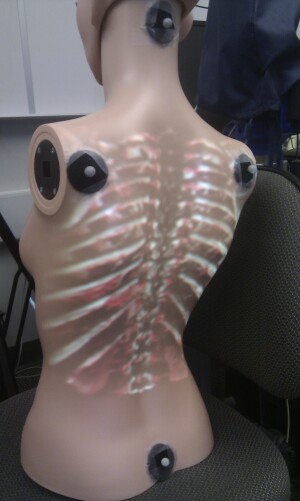 With ProjectDR, the patient lies on a table and has the imaging data of their spine projected onto their back, giving the clinician reference points for locating the desired vertebrae and where to apply the force. This can reduce the amount of time spent locating, reduce the need for palpation and mitigate errors. A simple extension of this would be to use the system for training. It enables learning anatomy in a more tangible and interactive way than a textbook or model.
Another application is for preoperative surgical planning. Segmented CT scan images can be displayed on the patient or surgical model and be used to plan the procedure with a surgical team. This allows the relevant anatomy to be displayed, moved or hidden as the planning occurs, and viewed from different perspectives. For example, planning the removal of a lung tumour could involve displaying an image on a surgical model where part of the ribs and lung are hidden as the plan progresses so that the tumour is visible along with veins and arteries relevant to the surgery. Modifications to the medical images can be projected onto the patient to preview changes from a procedure as well. This would be applicable in plastic and reconstructive surgery where visual aids are important.

Numed, a well established company in business since 1975 provides a wide range of service options including time & material service, PM only contracts, full service contracts, labor only contracts & system relocation. Call 800 96 Numed for more info.

In the future the technology could be applied to minimally-invasive surgical applications like laparoscopic surgery. This surgery is performed by inserting cameras and tools into the patient's abdomen and viewing the operation on a monitor away from the patient and surgical site. Viewing the operation through a camera and monitor removes visual depth cues and limits the field of view.
HCB News: From a big picture perspective, how disruptive do you think augmented reality technology can be for healthcare and imaging in particular?
IW:
AR has the potential to be quite disruptive. It has already captured many people's imaginations but more applications still need to be built and tested. AR can incorporate people's own devices into their healthcare and make it more personal and convenient.
Prices of the tools used for AR, like motion trackers, are rapidly dropping, which will make AR systems much more common. Depth sensors like the Kinect are now widely available and have even been appearing in cell phones. Graphical processing units have been advancing rapidly thanks to the advancements in other fields.