由
Lisa Chamoff
, Contributing Reporter | May 28, 2018
From the May 2018 issue of HealthCare Business News magazine
Testing equipment may not be the flashiest machines in the hospital, but they are critical for making sure that a facility's big investments are working correctly and safely.
Some of the newest products take cues from consumer electronics, with touch screens similar to the latest tablets, along with the ability to transfer important data to hospital record-keeping systems.

Quest Imaging Solutions provides all major brands of surgical c-arms (new and refurbished) and carries a large inventory for purchase or rent. With over 20 years in the medical equipment business we can help you fulfill your equipment needs

Here's a guide to the latest testing equipment on the market.
Acertara Acoustic Laboratories
The company, which manufactures electric leakage adaptors for ultrasound probes, has come out over the past year with new adaptors that allow customers to use a single adaptor to conduct testing on multiple manufacturers' probes.
"Every manufacturer uses a different style of connector," said Levi Moore, president and chief operating officer of Acertara. "For users that want to do an electrical leakage test, the option on the market is to buy the matching connector for every OEM they have in their facility. We make three adapters that cover most of the popular systems from General Electric, Philips, Siemens, Toshiba and other manufacturers. We also make a universal adapter that can be used to test nearly any probe on the market. We've taken the approach to better serve the market by giving it a universal tool."
The company's AmpSafe ultrasound leakage tester, a hand-held, battery-operated unit, has a modern touchscreen with a large amount of storage. The device allows a user to load the serial number of the probe that was tested into the record for that probe, while other devices on the market print a receipt, without a way to indicate that a specific transducer was tested, Moore said.
The AmpSafe provides PDF reports and has a USB connection.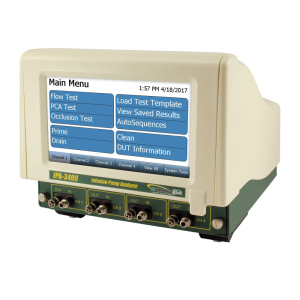 "It has more of the features people are used to in 2018," Moore said.
BC Group International
In June 2017, the company released its IPA 3400 series infusion pump analyzer. The device has four different channels so the customer can test the flow and alarms of four infusion pumps at once. The channels can be individually calibrated, which has the advantage of allowing the device to continue being used even if one isn't working.