From the October 2017 issue of HealthCare Business News magazine
By Keith Prince
MR technology has always moved toward innovations that provide higher quality scans, faster sequences and easier use.
In the last few years, however, the industry has been moving toward innovations in patient comfort as well. From soothing room design to quieter operation, companies are pushing the envelope of comfort to increase patient satisfaction.

Numed, a well established company in business since 1975 provides a wide range of service options including time & material service, PM only contracts, full service contracts, labor only contracts & system relocation. Call 800 96 Numed for more info.

One innovative way radiology departments are improving MR patient comfort is through the addition of an MR patient sound system. These audio systems allow technologists to clearly and easily communicate with patients while listening to their choice of music, all while providing the hearing protection needed during loud MR scans.
MR sound systems vary in quality and cost, so it is necessary to look at all options. Comparing offerings from different companies is essential in finding a system that ultimately fits your needs and budget. My facility has had great success with one developed by MRIaudio that produces high-quality audio while also providing superior ease of use for techs and patients.
MR patient stereo systems typically use an MR conditional transducer to route sound through pneumatic tubing into a nonmagnetic headset that delivers sound into patients' ears. These systems avoid producing scan artifacts or distortions on the MR scans and can be moved and refitted on new systems.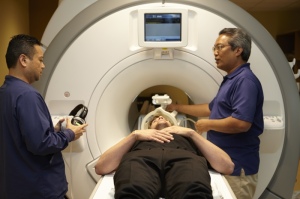 Check with your MR manufacturer because many of them offer sound systems at the time of purchase or later as an add-on. Adding a sound system is absolutely worth it on a new scanner, or even an older one that just needs an upgrade.
Shopping for the right MR sound system can be challenging. There are several options, each touting its product as the leader in patient comfort. It is important to mention that some of the manufacturers offer trials and satisfaction guarantees on their products.
The goal is to provide patients with comfortable protection from potentially harmful noise the scanner makes, but without adding unnecessary complications to the technologist's job. To this end, there are a few key factors to consider.