From the October 2016 issue of HealthCare Business News magazine
By Cris Bennett
When facilities are planning to purchase new MRI systems, they focus not only on today's needs, but also their needs throughout the next seven to 10 years.
We are seeing purchasing departments taking this approach more frequently. Purchasing department decision-makers should include the radiologist, the department director and the technologist when considering the future benefits of a new MRI system. With reimbursements continuing to fall, the inclusion of all stakeholders can aid facility purchasing decisions. Purchasing teams should make sure the purchased software meets the needs of the facility and that additional software will be available for purchase as the department adds advanced imaging techniques to its imaging portfolio.
When making large capital purchasing decisions, purchasing decision-makers need to research every aspect of the vendor and system offered, whether the system is open, 1.5T or 3T. The open market has slowed due to the "large bore" systems that are readily available in the market today. There have been huge strides in the 1.5T market to have the availability to use advanced software and protocols that have been available on the 3T.

Numed, a well established company in business since 1975 provides a wide range of service options including time & material service, PM only contracts, full service contracts, labor only contracts & system relocation. Call 800 96 Numed for more info.

The 1.5T still has a strong hold on the market. There is still interest in the 3T, but it is not what we are seeing in the 1.5T market. When considering vendors and MRI systems, facilities' purchasing teams need to look closely at the FDA recalls. Facilities should do their due diligence and read and understand each recall. For facilities, we recommend:
•
Requesting a written statement of the status and resolution actions the vendor has taken.
•
Using recalls as leverage in negotiations.
•
Researching the ratings of the system.
•
Ensuring the vendor has the proper contact point for further recalls.
•
Always negotiating uptime guarantees.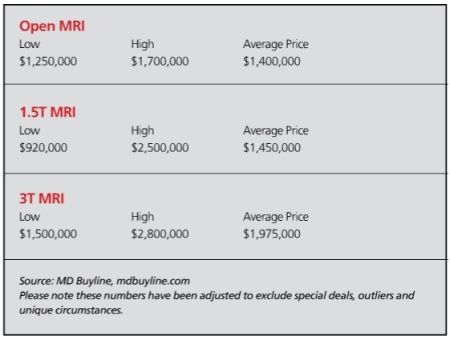 Along with every system purchase there should be a point-of-sale service contract. The best time to purchase service is during the purchase of the system. Historically, the purchase of service after the end of the warranty includes an up-charge that can be quite costly, depending on the system. Many vendors in the market offer ACR support packages, education, software upgrades and support. Purchasing decision-makers should ensure that the service support level and time period covered are in line with their facilities' departmental needs.
About the author: Cris Bennett is a clinical analyst at MD Buyline.