由
Lisa Chamoff
, Contributing Reporter | August 31, 2016
The company does a great deal of planning with hospitals. "We're looking at room drawings," Romocki says. "Hospitals give us drawings of new wings." Some facilities, such as urgent care centers, which are housed in standard office buildings, might not have a ceiling that can handle the load, so floor systems are better for those spaces, says Mintert of Philips.
Ready for resale
Like other imaging machines, used ceiling mounted equipment can be refurbished and resold. "I was in remanufacturing of X-ray equipment for 25 years," Thieman says. "We would go to a facility and remove the equipment, but the strut would stay. It's part of the building. The strut that's there is usually sufficient to support any manufacturer's overhead tube crane."
Virtual Imaging does not provide refurbished systems. When switching equipment, hospitals have to make sure that the integrity of structural supports hasn't been compromised, and that bolts haven't come loose and the integrity of anchoring is sufficient. "That's where a structural engineer would come in," Thieman says.
If a hospital sells a GE system and replaces it with another system from the company, the GE team will de-install it from the ceiling, says GE spokeswoman Amanda Gintoft "Systems are removed by our trained engineers or our installation team," Gintoft says. "The planning cycle restarts through the architect to recertify ceiling structure and review or comply with any new code or health regulatory change." Circumstances have become easier in recent years. In the past, manufactures had different structural specs, which would require a rework of the ceiling if they moved from one brand to another. Eventually, installation planners and strut companies came up with a universal grid system to support any manufacturer's installation.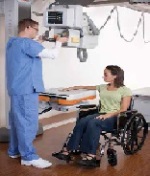 Getting shaky
In areas of the country where earthquakes are common, such as California, there are even more things to consider. Romocki, of Carestream, notes that the company works with the proper government agencies to make sure its equipment and installations can stand up to the necessary requirements. It also sends its engineers and equipment to a facility in Texas with rooms that simulate seismic activity.