由
Nancy Ryerson
, Staff Writer | October 02, 2013
From the October 2013 issue of HealthCare Business News magazine
Though MR technology is advancing quickly, the market itself is moving a little slower. A MarketsandMarkets report projects a modest growth of 4.56 percent between 2013 and 2018, and an expected 19 percent reduction in MRI Medicare reimbursement will do nothing to urge facilities to upgrade. But manufacturers say flat-lined growth for new installs means existing customers are even more of a priority.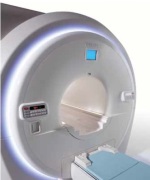 "Patient experience, patient satisfaction and referral base satisfaction are probably becoming more important than ever before," says Suresh Narayan, senior manager of MR market development at Toshiba.

Numed, a well established company in business since 1975 provides a wide range of service options including time & material service, PM only contracts, full service contracts, labor only contracts & system relocation. Call 800 96 Numed for more info.

Make yourself comfortable
Newborn babies aren't the only ones getting special treatment from MRI vendors. Patient comfort has been a major focus in MR development for the last few years.
Esaote, an MRI company that specializes in the orthopedic market, offers a scanner that can be tilted to 180 degrees, depending on the patient's preferences.
"When your back hurts you want to stretch it out, so it's great for comfort," says Bill Conn, director of marketing and business development at Esaote. "You can also get better positions for the knee than you would normally."
The trend toward offering scanners with a bore size of 70cm or greater, a patient comfort initiative perfect for large or claustrophobic patients, has continued as well.
Vendors are also working on making MRI scanners easier on the ears. GE's Silent Scan, released at RSNA 2012, adjusts gradient coils to reduce once raucous MR noise to background sound. It's now available on GE's full line of MR systems.
Advances in patient comfort have been especially valuable for abdominal area scans, a space ripe for improvements in patient comfort. Siemens says that about 6 percent of all scans done are abdominal images, and that the company sees it as the fastest-growing area in MR.
In May, the company announced FDA clearance of MR breath-holding software that reduces patient breath-hold by 50 percent while maintaining the same image quality. The software is called CAIPIRINHA (Controlled Aliasing in Volumetric Parallel Imaging Results IN Higher Acceleration), sharing its name with Brazil's national cocktail.