由
Brendon Nafziger
, DOTmed News Associate Editor | May 02, 2013
Growth in the market for retrofit X-ray kits that turn film scanners into digital ones will peak next year before economic stability allows more facilities, especially in Europe, to start purchasing new equipment again, according to analysts' forecasts.
Still, the booming business in these devices and rising interest in mobile X-rays will help lift world general radiography sales 5 percent, from an estimated $2.8 billion in 2012 to $3.9 billion in 2017, according to predictions released last week by IMS Research, a subsidiary of Englewood, Colo.-based market research firm IHS.
First launched five years ago, retrofit kits are flat panel detectors that plug into existing analogue scanners or rad rooms and convert them into digital radiography devices. The market for the kits stood at roughly $100 million last year, according to IHS estimates, with about 80 percent of the market held by kits for stationary equipment and 20 percent mobile. Many vendors, including Carestream, Fujifilm, and Konica Minolta, make the kits.

Carestream Health is a leading provider of quality X-ray systems and detectors that are designed to maximize diagnostic confidence, workflow and patient satisfaction. Follow the link above to see our complete portfolio of digital radiography solutions.

Looking into its crystal ball, IHS predicts retrofit kits will reach a year-over-year growth high of 20 percent in 2014, after which it will slow down as European buyers and others emerge from recession-induced penny-pinching and go back to buying new equipment.
"We forecast the retrofit market in some regions is more of a stopgap solution," Sarah Jones, an analyst with IHS who helped prepare the report, told DOTmed News.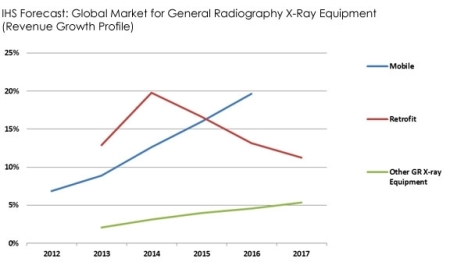 Jones said pressure from retrofit kits is helping to drive down CR costs in United States, as competition rages between the kits and single-plate CR systems. She wouldn't reveal exact costs, but last year an InMedica analyst said converting two film rooms to digital with a kit would run just over $100,000, while a new DR rad room is about $180,000.
CR and film X-ray equipment sales will also continue to take a nosedive according to the forecast. But although 2012 and 2013 are slow-growing years for mobile X-rays, sales growth should pick up in 2014, because of the systems' utility in reaching bedridden patients in ICUs and the ER, according to IHS. Better IT infrastructure also means images acquired by the mobile unit can be wirelessly zapped to the PACS for quick review.
The new mobile X-ray market is about three times the size of the retrofit market, Jones said.
The report is "The World Market for General Radiography and Fluoroscopy X-ray Equipment - 2013."