由
Diana Bradley
, Staff Writer | August 13, 2012
From the August 2012 issue of HealthCare Business News magazine
In August 2005, Hurricane Katrina touched down in southeast Louisiana as a Category 3 storm, leaving in its wake a battered populace and a woefully underprepared and overworked emergency response system. A number of hospitals languished under water for weeks.
"There was no police department, no telephone service, no power," says Norris Yarbrough, Ochsner Medical Center's VP of emergency preparedness. "All you saw was pitch-black where there was once a city."
Immediately following the catastrophe, New Orleans-based Ochsner was the only health care facility able to serve the community. Yarbrough is among a growing group of health care professionals who have experienced major disasters firsthand and have picked up lessons they're sharing with others.
Pro-active preparation
Most health care facilities conduct an annual hazard vulnerability assessment (HVA) to identify potential risks.
"This is done under normal circumstances through an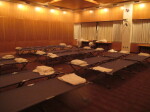 internal committee review and collaboration with other emergency response partners," says Sandra Williams, emergency operations center manager/safety officer at Oakland, California-based Alameda County Medical Center (ACMC).
Many agencies and organizations directly support hospital preparedness, including: The U.S. Department of Human Services, Assistant Secretary for Preparedness and Response, local public health departments, and local government bodies. Further to this, public and private sectors now go to great pains to be transparent with each other on disaster response – a union virtually unheard of 15 years ago.
"It's not a problem for a state to tell you what their resources are and how you can access them, through The Office of Emergency Communications' Regional Coordination Program," says Yarbrough.
Emergency managers in the same state or region regularly work together to produce the best possible outcome in a disaster, not just for their own institutions, but also for the area at large, according to Kristin Stevens, NYU Langone Medical Center's director of emergency management.