由
Joanna Padovano
, Reporter | November 18, 2011
From the November 2011 issue of HealthCare Business News magazine
Medical chillers remove the heat generated during the use of machines such as MRIs and CTs. Different modalities require specific types of chillers in order to function safely and properly. But protecting multi-million dollar machines from meltdown doesn't come cheaply.
New standard-style medical chillers weighing between 15 and 30 tons generally fall into the price range of $20,000 to $40,000, depending on the model, says Kim Bernard, a sales application engineer with Dimplex Thermal Solutions, a chiller manufacturer operating under the brands Koolant Koolers and Schreiber Chillers. Customized chillers can cost upwards of $70,000, she adds.

Quest Imaging Solutions provides all major brands of surgical c-arms (new and refurbished) and carries a large inventory for purchase or rent. With over 20 years in the medical equipment business we can help you fulfill your equipment needs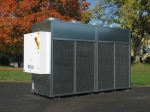 Maintenance is also expensive, generally running around $2,000 a year, according to Bernard. And for more complex machines, or for customers who choose extended warranties, that price can reach $3,000 to $4,000 annually.
The typical medical chiller lasts at least 10 years, Bernard says.
Sales in the sector
Sales in the market have been mixed. Dimplex Thermal Solutions said it was performing well this year. "We're probably going to have two times the sales revenue this year as we did last year," Bernard says, adding that the company's international sales are also on the rise.
Similarly, Mike Marrone, president of Cold Shot Chillers, mentions that their sales have gone up since last year. The company sells chillers overseas through domestic OEMs. "In other words, if one of our domestic manufacturers—such as GE, or Elekta or Varian—is selling abroad, then we ship our machines internationally," he says.
Johnson Thermal Systems, on the other hand, has not been so fortunate. Sheri Johnson, the company's president, says that this year's sales have been slower than last year's, but she remains optimistic. "We've seen it increase in the last half of this year; we're seeing it pick up quite a bit," she says.
Turner Hansel, the vice president of Filtrine Manufacturing Company, says their sales over the past year have been unpredictable. "One week you're up, one week you're down," he says. According to Hansel, Filtrine is considering the possibility of expanding their overseas market in the future.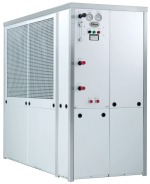 For Chiller City, a refurbisher of medical chillers, sales have been nearly doubling every year for the past half-decade, says Andy Wylde, the company's president. "[The refurbished medical chillers market's] pretty recession-proof," he says. "You've got a lot of big chains, big companies that operate a number of hospitals, and so once one of them finds you and realizes you've got the stuff they need, they put you into their purchasing database and then they all call whenever they break something." Chiller City sells less than 5 percent of its chillers internationally.