由
Kathy Mahdoubi
, Senior Correspondent | May 13, 2010
This report originally appeared in the April 2010 issue of DOTmed Business News
A few years of depressing sales doesn't seem to be holding the CT industry back. In 2009, the industry was valued at about $1 billion and sales were estimated to be down an estimated 10 to 15 percent industry-wide. Manufacturers are still selling their most advanced CT systems, but now more than ever, hospitals are gauging actual need and going for the technology that meets it succinctly, instead of reaching for the top-of-the-line CT every time.
Until the effects of the DRA hit the market in 2007, most imaging facilities were opening their wallets and spending big, but now many facilities are opting out of the bells and whistles in the name of what's affordable in the current climate.

Quest Imaging Solutions provides all major brands of surgical c-arms (new and refurbished) and carries a large inventory for purchase or rent. With over 20 years in the medical equipment business we can help you fulfill your equipment needs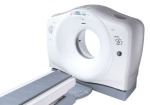 "The market is down overall in dollars, but what we're seeing is people who previously would have bought a 64-slice CT are downgrading to a 32 or a 16," says Robb Young, senior manager for Toshiba's CT Systems division. "People are still buying CT, maybe a little less than they would have in the past, but it's clinically appropriate. One thing about CT is that it's such an essential modality for that initial assessment of a lot of issues, whether the issue is cancer, trauma or stroke. A lot of hospitals that have acute stroke, pediatric or ERs are looking at top-end systems, and then if they have a large radiology department they may buy one or multiple 64s, and if they're not doing a lot of advanced procedures such as cardiac they may be looking at a 32 or a 16."
CT from the inside
Dr. Stuart Silverman is a professor of radiology at Harvard Medical School and director of CT scanning at Brigham and Women's Hospital in Boston. DOTmed spoke with Dr. Silverman about how CT technology and procedures have changed since the early 1990s.
Two major advances have happened - the first advance came with spiral computed tomography, which allowed CT to be acquired volumetrically in a single breath-hold. Spiral CT revolutionized the CT industry, but it wasn't the only major innovation in recent years. The next advance came with multi-detector CT, which not only allowed images to be obtained volumetrically, but at very high spatial resolutions that enable radiologists to detect minute structures without any respiratory artifacts. The latest systems feature technologies based on years of research and development, including CT scanners with dual X-ray sources that can scan at different energy levels for unique characterization of tissues.