由
Kathy Mahdoubi
, Senior Correspondent | February 19, 2010
This report originally appeared in the January 2010 issue of DOTmed Business News.
When it comes to magnetic resonance imaging, MRI scanners get all the attention, but a lot more goes into the finished MRI suite. Radio-frequency and magnetic shielding both contain and keep out forms of energy that can, if not dealt with properly, cause serious problems with image quality and, depending upon the strength of the magnet, a very real safety hazard. While the current dismal U.S. economy has dampened new-unit MR sales, RF shielding companies are seeing more international expansion and are getting creative stateside by developing the service aspect of their business as testing, upgrades, modifications and repair become the name of the game.
The largest market share for RF shielding is currently held by ETS-Lindren, headquartered in Cedar Park, Texas. The company identifies, measures and provides solutions to contain and control magnetic, electromagnetic and acoustic energy and provides RF and magnetic shielding across the country and throughout the world. Approximately 32 percent of ETS-Lindgren's business is medical, with about 8,000 medical installations already on the books.

Quest Imaging Solutions provides all major brands of surgical c-arms (new and refurbished) and carries a large inventory for purchase or rent. With over 20 years in the medical equipment business we can help you fulfill your equipment needs

"In 2008, we had about $155 million in orders and $144 million in sales," says William Giacone III, RF shielding division vice president and general manager of Lindgren RF Enclosures, Inc. "In 2009 we will be down just a few percent lower in both areas. The economy has been tough on us, but not horrible."
Ben Turner, ETS-Lindgren's vice president of sales and marketing, says demand for RF shielding has not been increasing. Instead, companies like ETS are striving to grow their business by increasing market share.
The company also remains stable with the help of its diverse portfolio. When medical is down, industrial or wireless testing may be up. "On the government industrial side of the RF Shielding business, we work with the Department of State, the FBI, Army, Air Force, you name it," says Giacone.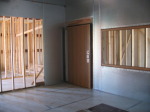 Another company moving up in the U.S. is IMEDCO America, a division of IMEDCO AG, based in Switzerland. About 5,000 installations worldwide have put them in a strong second.