由
Kathy Mahdoubi
, Senior Correspondent | February 01, 2010
This report originally appeared in the January 2010 issue of DOTmed Business News.
A major illness is a scary enough proposition for an adult, but for a sick child who may be too young to fully understand what is happening, it can be especially hard. In this regard, children's hospitals serve several functions, including specialty medical center, research organization and supportive community for families in need. Here are some up-and-coming children's hospitals that excel in these areas, whether advancing disciples like pediatric neurosurgery, racing for a cure for type 1 diabetes, gaining a greater understanding of autism, or by building idyllic sanctuaries that captivate the imaginations and calm the nerves of adults and children alike.
Castle of Care

Quest Imaging Solutions provides all major brands of surgical c-arms (new and refurbished) and carries a large inventory for purchase or rent. With over 20 years in the medical equipment business we can help you fulfill your equipment needs

Sanford Children's Hospital in Sioux Falls, S.D., is a freestanding pediatric center and "Castle of Care" that just opened its doors in early 2009. The facility takes its name from the hospital's architectural design and interior, which is all tailored to look like a medieval castle, complete with towers, thrones, tapestries and almost 4,000 square feet of murals depicting fairytale lands. There is also a large "fireplace" in the great hall that creates the illusion of fire with child-safe water vapor diffused with red lighting. On every floor of this 5-story, 146-bed pediatric hospital is a different theme played out in the dé[<00E9>][<00E9>][<00E9>]cor, from floor to ceiling and in murals in every child's room. Wards like "The land of Nez" and "The Enchanted Forest" promote a playful, non-threatening atmosphere that can mean a little less stress and potentially faster healing for patients.
"Over the last 20 years, we've talked about what we need to provide for the children in our community," says Jan Haugen-Rogers, vice president of Sanford Children's Hospital. "We knew it was a once-in-a-lifetime opportunity-a foundation for the future. We thought about our core services and what the future holds and we wanted to strategize and do it right the first time. Health, hope, healing and strength became the theme, and we thought, 'What's a building that is timeless from an architectural standpoint that would truly withstand all time - what about a castle?'"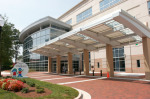 A lot more than just design is happening at this hospital. About 65 percent of the patient population at Sanford Children's is under age 5, with a slightly older age group receiving care in the state's only dedicated oncology program. Also under Sanford's roof are both neonatal and pediatric intensive care units and a full radiology department, complete with hybrid PET/CT system. More than 60 physicians work in more than 20 pediatric subspecialties, ranging from orthopedic surgery to endocrinology and cardiology to genetics. Haugen-Rogers says there could even be some potential for proton therapy in the future.