由
Kathy Mahdoubi
, Senior Correspondent | October 28, 2009
This report originally appeared in the October 2009 issue of DOTmed Business News
Imagine devices so miniscule that millions of them can fit into a single cancer cell. This isn't science fiction - it's nanotechnology, and it has already infiltrated a number of industries, including medicine. Several nanoscale pharmaceuticals and biomedical technologies are commercially available, such as antiseptic silver-particle coatings for medical devises and some exciting technologies are still in development, including biosensors that can sense the presence of bacteria, viruses and certain other diseases, but Nanomedicine's biggest research breakthroughs have been in the realm of cancer detection, imaging and treatment. Research institutions across the country and beyond are developing astounding nanotechnologies in the form of cancer biosensors, tumor imaging agents, targeted antitumor drugs and even a minute form of radiation therapy.
The National Science Foundation foresees the nanotechnology industry booming into a $1 trillion a year market by 2015, with nanopharmaceuticals commanding as much as a $180 billion slice of the pie. The term nanomedicine not only indicates the scale of the particles but also the properties of those particles and their particular effect at the cellular, intracellular, molecular and atomic level. By definition, nanoparticles are 1 - 100 nanometers in size. A nanometer is one-billionth of a meter. It helps to think of a nanometer being about 100,000 times thinner than a human hair. Structures that small have some unique advantages when it comes to treating and curing disease.

Quest Imaging Solutions provides all major brands of surgical c-arms (new and refurbished) and carries a large inventory for purchase or rent. With over 20 years in the medical equipment business we can help you fulfill your equipment needs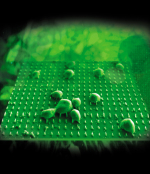 "Nanomedicine has the potential to create a tremendous paradigm shift that could be described as no less than revolutionary in treating many diseases such as cancer," says Dr. Ahmed Busnaina, director of Nanoscale Science and Engineering Research Center at Northeastern University in Boston, Mass. "If these efforts are successful, it may be possible that no one will die of cancer in the future."