By Dr. David Gruen

Congratulations! You've decided to become a radiologist, and we can't wait to have you join our ranks.
As the profession enters its second century, the future for both the field of radiology, and for those who practice it, is truly brilliant. After at least ten years of training, you're ready to jump in, to start evaluating your employment options, and to finally sign your own name to that MRI, PET Scan (or AI Report!). Judging by the number of openings on job boards I follow, there are many opportunities out there waiting for you.
Radiology needs you and, most importantly, patients need you – but you should enter the profession with your eyes wide open. As someone with more than 20 years of experience as a radiologist, allow me to offer a few words of advice. (It has been said that advice is the elevator music of life, but I'm hopeful you'll find the following helpful):
There's no better field for advanced technology
If you want to be at the forefront of leveraging technology, and believe that technologic innovations will continue, to make impactful differences in patient care, radiology is the place for you. As the field evolves from an anatomic to a molecular business, and as there is a growing overlap with genomics, technology will play an increasingly important role in helping you harness huge amounts of data to paint a clearer picture of the patient. Going forward, Radiology will play a large role in personalized medicine, making us essential members of the direct care team.
It's hard work
Demand for imaging continues to expand and so will the radiologist's workload. Consider the estimates that we're reading images every three to four seconds in an eight-hour work day to meet demands. It can be a grind to sit in a dark room, reading case after case. The good news is that, even today, AI can help remove some more routine tasks to free us up to focus on the patients that need us most. That's why I went into radiology – not to crank through thousands of images hour after hour, but to tackle complex cases and to make challenging diagnoses, that require the skills honed over years of training and practice.
Embrace your specialty
The day of the generalist is becoming a thing of the past and specialists are more in demand. My specialty – women's imaging – is always changing and advancing. Maintaining up-to-date knowledge is vital to our profession. Although it can be difficult to keep up with the rapidly expanding body of data and evidence, be sure to never stop learning. Your patients and clinical colleagues are counting on your expertise. This is yet another area where technology, including AI, will help you keep pace with significant new clinical findings.
Continue to engage with the broader clinical team
When I was training, the best part of my day was when I joined other clinicians as part of an integrated care team to review images and cases. In my early days in private practice, I knew all the local physicians and would often collaborate with them. Today, it is more likely that you may not meet the clinicians who are in direct contact with patients. You might not work in the same building, health system or even state. But technology tools can bring together members of the clinical team, enabling us to share context and insights with one another that will ultimately benefit patients. I encourage you to continue to engage and collaborate with your clinical teams, and in so-doing make yourself, and our wonderful profession, always valuable.
Radiology was the right place for me, and I hope it is for you, too. With more information at your fingertips than ever before, you will help uncover the story for each patient and bring tremendous value to the clinical team. You are critical to patient-centered care, and we can't wait to welcome you aboard.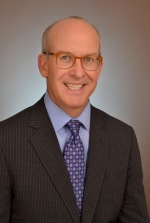 About the author: Dr. David Gruen, MD, MBA, FACR, is the Watson Health Deputy Chief Medical Officer for Imaging, and a practicing radiologist specializing in women's imaging. After receiving his medical degree from the Weill-Cornell University Medical College, he completed a radiology residency at the New York Hospital- Weill Cornell Medical Center, followed by a post-doctoral fellowship at Memorial Sloan Kettering- Cancer Center. He received his MBA from the Isenberg School of management at the University of Massachusetts.

Dr. Gruen is a Fellow of the American College of Radiology and a nationally recognized leader in the medical imaging community. He serves on several committees for the American College of Radiology; is an accreditation inspector for mammography and breast biopsy for the American College and Radiology; and was the first radiologist in the country to become a program inspector for the National Accreditation Program for Breast Centers (NAPBC). He is a frequent lecturer and key opinion leader on topics including new technologies in imaging; advances in women's imaging; and physician burn-out. He has served on numerous hospital committees and boards, currently serves on the board of the Breast Cancer Alliance and previously served on the board of Susan G Komen, New England.