ExpoMed is Mexico's leading healthcare event and will take place June 5-7 at the World Trade Center in Mexico City. Last year's event drew 7,500 buyers to check out 250 exhibitors from 20 countries.
HealthCare Business News checked in with ExpoMed's event director, Maurilio Zertuche G., to find out more about the event and his background with the organization.
HCB News: Can you tell us a little bit about the history of Expo Med and its origins?
Maurilio Zertuche G.:
Expo Med was born 10 years ago as a congress where topics from the health sector were touched, over time they realized that they needed a commercial area where medical device companies could exhibit their products, this is how this combination of an educational program begins and the business area to make way for what is currently.
HCB News: How did you first become involved with the event?
MZG:
In 2018 UBM / INFORMA decided to make the purchase of Expo Med in order to professionalize it and give it an international reach, that's when I was invited to participate in this project as Director of the Portfolio of Health in Mexico, since then we have worked on improving the different areas involved in the organization of the event so that the next edition each participant can live a unique experience.
HCB News: What were the big topics at last year's event? How will this year be different?
MZG:
The previous edition touched on very technical issues of regulation of medical devices in Mexico that undoubtedly was a very important issue, for the 2019 edition we decided to change in 2 senses, the educational part with the creation of the HealthCare Strategy Summit in which we will have speaker international size, where issues such as the health system in Mexico, relationship of the private public sector and where we are going as a country to improve hospital care will be touched, the second is the exhibition floor in which we have achieved international alliances with countries like Japan, Korea, Germany, Italy, Brazil, China and India to mention a few, they will have presence with pavilions in which companies from those countries will offer the latest in health care technology, with this we will achieve a complete event for the people who require training or make business connections.
HCB News: Are there certain initiatives or goals you will be announcing?
MZG:
In our educational program The HealthCare Strategy Summit we will have discussion tables and meetings of the private sector and the government where you can present your doubts and suggestions about the health system in Mexico, the idea is that this forum serves as a platform to launch initiatives which begin to work in the sector.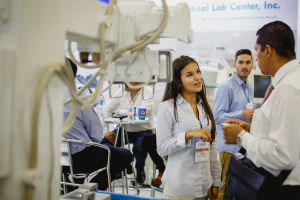 HCB News: What advice do you have for first-⁠time attendees?
MZG:
The advice I can give you is to come with the best disposition and openness to see relevant issues of the health sector and to conduct business with the most important players who will be meeting for 3 days.
HCB News: What makes Mexico City a good location for an international medical technology event?
MZG:
Mexico is a country in constant growth in the health care sector, it has a large foreign investment from different countries that seek to start new businesses, besides it has become one of the main destinations in medical tourism, it is the preferred destination by the US because here they can attend to different ailments with lower costs ranging from 35% to 70%
HCB News: For industry stakeholders who are not sure if they should attend Expo Med, what questions should they be asking themselves?
MZG:
The serious question, do you want to stay out of the most important event in Mexico in health care, in which you could interact with leading private companies and the public sector and make the best business connections.
HCB News: What about this year's event are you most excited about?
MZG:
As I mentioned before, having an educational program with international speakers and leaders in Mexico is a great plus, in addition to the commercial offer makes Expo Med the leading event in the sector and the best business platform.