The standalone SPECT market is facing threats left, right and center. Not only is there the recent medical imaging isotope shortages to contend with, but more and more doctors are migrating to hybrids like SPECT/CT. And positron emission tomography may now be poised to blow SPECT completely out of the water.
As a result, SPECT has seen zero growth and is beginning a downward trend, with an estimated 17.0 million nuclear medicine procedures performed on SPECT or SPECT/CT cameras in 2010, compared to 17.2 million procedures performed in 2007, according to a report released in October by research firm IMV Medical Information Division.
SPECT vs. SPECT/CT
Chad DeGraaff, product manager at Siemens Healthcare, says his 55-year-old aunt was having chest pains. After carrying out a SPECT study on her heart, doctors discovered a perfusion deficit. Surmising she had a blockage in one of her coronary arteries, they promptly sent her to a cath lab. After the SPECT/CT study that followed, DeGraaff's aunt was finally able to breathe a sigh of relief as she was deemed A-OK.
"My aunt is not a small person and she has rather large breasts," he notes. "The study looked to be positive from the nuclear exam study, but because of the amount of breast tissue, the photons couldn't penetrate through her breast tissue; SPECT/CT allows us to correct for that absorption. If she had a SPECT/CT done from the beginning, they would have said, 'You're fine, go home and relax.'"
While IMV Medical Information Division's report states that dual-head SPECT cameras are the most popular camera type being considered, comprising nearly half of planned camera purchases, SPECT/CT are increasingly being adopted, comprising one-third of the planned cameras. There has been a slowly increasing adoption rate toward SPECT/CT year over year, enabling physicians to merge functional imaging from a nuclear medicine study with anatomical information from the CT.
The market's shift to SPECT/CT has meant more money, as a typical SPECT camera is in the $300,000 range and a SPECT/CT is twice that, according to Satrajit Misra, head of business development and marketing for nuclear medicine at Philips Healthcare.
"SPECT/CT provides better clarity, better localization and better diagnostic confidence for the physician," says Siemens' DeGraaff.
But unlike the transition from PET to PET/CT, which seemed to happen overnight, the adoption of SPECT/CT has been a much slower process. The increased cost associated with moving to SPECT/CT, along with reimbursement cuts, has impacted customers' purchasing decisions. DeGraaff adds that SPECT itself is not yet completely redundant.
"There will always be those types of exams where I need to do traditional nuclear medicine imaging," he says. "Let's say I want to look at how well my liver or kidneys are functioning; I do not necessarily want to look at slices in an instance, but rather function across time."
Even so, if an end user needs to replace SPECT equipment, Misra advises to go straight to SPECT/CT.
"There isn't much value in replacing a 10-year-old gamma camera with new SPECT equipment," Misra says. "You want to make a paradigm shift to SPECT/CT if you're going to replace the gamma camera anyway. In order to get the most out of your existing gamma camera, invest in new informatics, like software and applications."
DeGraaff predicts the full-fledged adoption of SPECT/CT is another three to five years away.
"Eventually, you will see SPECT cameras fade away, with only SPECT/CT cameras remaining," he says.
PET peeve
Procedure migration has placed SPECT on thin ice – especially cardiac procedures and bone scans shifting from SPECT to PET, which together comprise almost 80 percent of procedures, says Misra.
"PET cardiac is clinically better than SPECT in many ways," he explains. "It is lower dose, better image quality and a much faster workflow: 45 minutes, as opposed to six hour protocols."
Although physicians have a glowing appreciation for PET, an end user's final decision often comes down to the total cost of investment. The equipment and pharmaceuticals for PET cost a lot more than for SPECT. Most radiopharmaceuticals used in SPECT come from reactor-created products, whereas most of the radiopharmaceuticals used in PET come from cyclotrons.
"The distribution for PET and SPECT radiopharmaceuticals is different and based upon economics," says Don Bogutski, president of Diagnostix Plus Inc., a supplier of new and refurbished nuclear medicine equipment and services. "Distribution of technetium-99m with a half-life of seven hours can cover a much larger area than distribution of fluorodeoxyglucose with a half-life of 109 minutes. Therefore, the customer base is far larger with technetium and the individual doses can be distributed at a much lower cost while maintaining a reasonable profit margin."
While the migration of SPECT procedures to PET is inevitable, according to Misra, he adds that there will always be a need for SPECT/CT imaging, and good SPECT imaging in general.
"The trick – especially for cardiac and bone imaging — is working out the best strategy to balance between SPECT and PET imaging to manage your hospital's workflow," he says.
Cost and impact
Historically, cardiologists had nuclear equipment in their practice simply because they wanted to provide better care for their patients. But today, because of CMS changes, if a facility wants to be reimbursed by Medicare or Medicaid, they need to be ACR accredited. Many facilities do not want to take on that additional burden, so are now opting to merge with hospitals.
One-third of nuclear imaging sites are currently physician office locations, including: cardiology offices, multispecialty clinics, and imaging centers. But going forward, only one in six of planned camera purchases through 2013 will be from physician offices, says IMV Medical Information Division's report.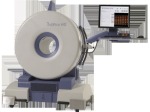 "There have been significant reductions in reimbursement for myocardial perfusion imaging with SPECT devices," Josh Gurewitz, VP sales and marketing, Spectrum Dynamics, North America, says. "This, combined with changes in the criteria on how MPI studies are ordered, has created a downturn in the number of systems purchased in the U.S. per year."
Linked with this slump is the fact that customers are holding on to their nuclear cameras for 10 to 15 years, only buying new when they need replacements, explains DeGraaff.
"Because of the current state of the economy, customers really need to justify a new purchase," he says.
However, noting the growing needs in health care, reform, and the interest in reducing cost, David Webster, NeuroLogica's VP of sales and marketing, is optimistic that there will be a SPECT "renaissance".
"It is easier for a hospital to have a SPECT program," he explains. "The radiotracers have a longer half-life so they can be delivered. Hospitals are really going to start taking another look at SPECT."
DOTmed Registered 2012 - June - SPECT & Gamma Camera Companies
Names in boldface are Premium Listings.
Domestic
Debbie Wong, Spectrum Dynamics
, CA
William Carroll, Eclipse Systems Inc.
, CT
Moshe Alkalay, Hi Tech Int'l Group
, FL
DOTmed Certified
Grant Norris, Associated Imaging Services
, KS
DOTmed Certified
DOTmed 100
Steve Rentz, Block Imaging International
, MI
DOTmed 100
Anthony Gualtieri, Nuclear Medicine Resources Inc.
, NJ
Kenneth Smith, BC Technical
, UT
DOTmed Certified
Tom Luque, ECS Nuclear
, WA
International
Reno Itzhaki, Eltec Eng. Medical Systems Ltd.
, Israel
Gilberto Mangual, ImageTek
, Puerto Rico