This report originally appeared in the June 2011 issue of DOTmed Business News
The Association for the Advancement of Medical Instrumentation (AAMI) has had a busy couple of years. As is the case with many organizations, policy shifts and new initiatives by the federal government pose challenges for the association. Current President and CEO Mary Logan, came in at just the right time, getting a chance to settle into her role before tackling those challenges.
A lawyer by training, Logan practiced for 20 years with a focus on health care regulatory concerns before moving into association leadership. She served as general counsel for the American Dental Association, and also spent seven years as its chief operating officer, before being tapped for the position with AAMI in April 2009. Logan set aside some time in her busy schedule to speak with DOTmed News about some of the progress AAMI has made under her watch.
DMBN:
It seems like you joined AAMI just in time. There's been a lot of movement in the health care arena during the past two years. What kind of challenges is your membership facing?
Logan:
I would say the biggest challenge right now is the convergence of technologies, most notably medical devices with IT. There are new drug/device combinations and new device/device combinations all providing a lot to consider. There are also more products utilizing wireless capabilities than ever before, taking the functions that historically bigger and bulkier devices did individually and combining them all into one device – patient monitoring is a good example.
A second challenge has emerged due to the increased scrutiny hospitals face in regards to patient safety and cost control. That has, in turn, created tremendous opportunity and pressure across the entire health care system, including health care associations.
DMBN:
What have been some of the highlights during your time with the association?
Logan:
I would say last year, AAMI's defining moment was a historic summit co-hosted with the FDA, which focused on the safety of infusion devices and systems. What was magical about the event was that we had 350 diverse stakeholders in a room together and they worked as a whole to agree on 13 priorities for improving infusion safety. We now have working groups in the AAMI Foundation Medical Device Safety Council set up just for the purpose of working on these priorities and making the safety goals a reality.
DMBN:
Are there other plans like that for the future?
Logan:
We're actually repeating the process twice this October, first on alarm safety and then on reprocessing reusable medical devices. The alarm safety summit will be co-hosted with the ECRI Institute and the American College of Engineering. The summit on reprocessing reusable medical devices will be co-hosted with the FDA, since that topic is one of the FDA's new efforts.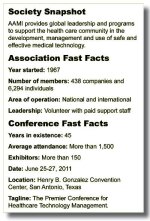 DMBN:
Has the Association's direction or goals changed under your leadership?
Logan:
Some things have definitely changed, and I think they've been welcome changes. For example, last November our board adopted a new strategic plan for the association. This four-page plan replaces the old 50-page plan. We also recently went through a rebranding initiative and I would say although most people in the outside world won't really notice the change, it's really important in how we represent ourselves to the world. For the first time, we have a tagline, "Advancing safety in medical technology." We also moved last year to much more inviting office space, with great meeting rooms for members.
DMBN:
What are some of your personal goals as president and CEO?
Logan:
One of the charges the board gave me when I first joined was to build bridges with the external world and I have worked really hard on that. Last year alone, I met with about 50 organizations.
We are so busy with so many opportunities. One of my challenges is helping to make sure we have the capacity to do all the things possible. We've opened the doors, shaken the rugs out the window and announced to the world we're ready to do work. Now, we need to make sure we're ready to do a really good job with what we have on our plates.
DMBN:
And that will be seen at your conference?
Logan:
Certainly. I'm looking forward to many highlights. Standout examples include our Harken Lecture, where a nuclear energy expert will share lessons we can apply in health care, the Joint Commission's EVP as a general session speaker, and an FDA expert who will speak on the new MDDS [medical device data system] regulations.
DMBN:
What do you most look forward to about the show?
Logan:
To me, the most important thing about the conference is being in one place with a community of 1,500 committed technology experts who care a lot about patient safety and advancing clinical technology. It's fun and energizing to be with them in a great learning and networking environment..
DMBN:
If someone wanted to get involved with a committee, what should they know?
Logan:
There's a place for professionals with many level of involvement. We have the standards-setting side of AAMI where our committees are open and readily welcome subject experts and hospital-based individuals. We also have the Technology Management Council, editorial board, annual conference program planning committee, and more. Beyond that, if someone's looking to get involved, visit our web site or give me a call!