Kathy F. Mahdoubi
This report originally appeared in the March 2010 issue of DOTmed Business News
A movement is gathering speed in Europe toward the wholesale regulation of used and refurbished medical equipment. COCIR, the European Coordination Committee of the Radiological, Electromedical, and Healthcare IT Industry, is now going on its third edition of a green paper titled "Good Refurbishment Practice For Medical Equipment." The document represents an official push for universal standards, additional reporting, post-market surveillance and greater control over the lifecycle of equipment, which, if implemented, could have a dramatic impact on the financial livelihood of independent sales and service companies.
DOTmed has spoken with members of both the European and Japanese radiological communities and the consensus is that the used market is still relatively a fledgling segment of the industry in Europe, but one that may be growing of necessity. Economic pressures could increase competition and provide an opportunity for independent brokers, dealers, and refurbishing and service organizations to overtake some market share.
In the 2007 first edition of the COCIR green paper, COCIR president Heinrich Von Wulfen wrote in his foreword that, "in recent years, some regional health care markets have been flooded with used medical equipment of questionable and inconsistent quality," and this was the principle reason for advocating more rigorous regulation. The statement aroused dismay and a number of people have expressed that they felt the language showed the industry in a bad light, as if it were filled with predatory short-term profit traders.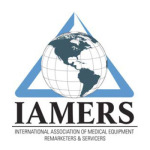 IAMERS, the International Association of Medical Equipment Remarketers and Services, first acted by writing to the U.S. Food and Drug Administration to verify whether any such regional dumping of sub-standard equipment had occurred. The FDA responded stating that a diligent search was conducted of official records for fiscal years 2007 and 2008, which revealed no pattern of adverse event reports or incidents indicating that refurbished and remarketed devices had been associated with or had contributed to a death, serious injury, or malfunction. Accordingly, IAMERS requested that COCIR remove the troubling language from its report and COCIR granted their request. "We felt that it was not the best way to portray the industry," remarked IAMERS President Diana Upton.
More recently, IAMERS has been working with COCIR to improve the relationship between original equipment manufacturers and independent sales and service organizations, and apparently any language that implies malicious intent will not be printed in future editions. Upton remarked that COCIR is a very well established and influential organization in Europe and a great resource for IAMERS. She also opined that top-down regulation is imminent and that the industry should be prepared to get on board as long as standards benefit the industry and reassure the customer.
Concurrently, there are murmurs throughout the industry that the push for stronger regulation is less about enhancing and ensuring quality and more about entering certain foreign markets where access is limited. Many see the initiatives as more red tape and as having an adverse effect on small business. Independent companies in the industry tend to be small businesses that may not have the resources to handle a whole new layer of compliance and documentation requiring additional man-hours or new personnel on the payroll, not to mention significant changes in business practices.
The issue IAMERS has with the protocol recommended in "Good Refurbishment Practice" is that not all original equipment manufacturers provide the necessary tools -- the equipment manuals, passcodes, and software -- that would allow independents to comply fully. If reputable small businesses cannot comply, what happens then?
"I think that everyone has to very carefully think through the effects of restrictive regulation in what is today a growing European pre-owned medical equipment market," said Philip Jacobus, president of DOTmed and a founding member of IAMERS. "Well-intended or not, this kind of regulation can mean less open and robust markets, in essence shrinking them and slowing the pace of commerce across the board. The more difficult it is for sellers to find buyers for their used equipment, the less likely it is that they will be able to acquire new OEM equipment."
These attempts at industry standards are becoming increasingly relevant for American independent sales and service organizations as the FDA continues to develop a system of unique device identification (UDI), which would allow post-market surveillance of used and refurbished medical equipment within a matter of a few years. In addition, further U.S. legislation may call for International Standards Organization (ISO) certification, which may prove taxing for small companies. The ultimate impact these measures will have on the U.S. industry is still unclear, and there is likely a great deal more to this story. DOTmed will continue to report as new details emerge.